Product
System Specifications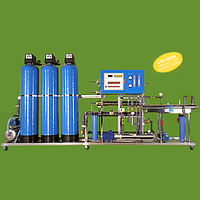 Product ID: LTS RO-250, 500, 800, 1500, 3000, 6000, 9000
Specifications:
Operation Pressure: 150 ~ 220% PSI
Removal Rate: 96% (Organic Matter: 98%; Colloid & Bacteria: Over 98%; Heat Source: Over 98%)
Acquisition Rate: 50 ~ 60%
Features:
Automatic time-setting flushing device.
Water deficiency and low pressure protection.
Operational pressure setting control.
Full R.O. water storage shut-down.
Equipment set motors with quality indicator.
Quipped with regenerative and shut-down devices to match preliminary process system.
Fully automatic operational control.
Water monitoring system with quality indicator.
Equipped with reverse flow adjusting device, also adjusts pump output.
Equipped with circulating R.O. cleansing chemicals inlet and outlet.
For systems of 1,500 gals and over, flow rate indicators for discharge water and R.O. production water are installed.
Entire system control for 6,000 gals and up are incorporated on the R.O. control box.