Product
Pleated Filter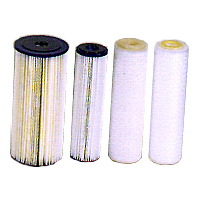 Product ID: MUBLZP20, MUBLZP201, MUBZP20, MP3020, ZP205, ZP201, MUBLZP10, MUBZP10, MP30, ZP101, ZP105
Are designed to fit 1050, 2050 big diameters housing. These pleated filters are made of PP material, which are suitable for regeneration after washed out particulars. Available 5-20 micron for various applications. Length 10" and 20" are available for option.
Specifications:
Working Manual:

Max. flow rate: 5 micron-10 GPM (37.8 LPM) / 20 micron-25 GPM (94 LPM)
Micron size: 5 micron to 20micron
Max. working temperature: 40°-125°F, 4.4°-52°C
Max. working pressure: 125 PSI
Features:
High flow rate with low pressure drop.
Pleated design provides high contact surface to remove silt particulars and longer service life.
Polyester material in most conditions are suitable for regeneration.
Note:

Regeneration by water spay on sludge filters.
Check the pressure and flow rate of reuse filters.
See more complete detail
| | | |
| --- | --- | --- |
| Item No. | Description | PCs/Box |
| MUBLZP20 | Big Dia Long Pleated PP Cartridge 20" | 2 |
| MUBLZP201 | Big Dia Long Pleated PP Cartridge 20" | 2 |
| MUBZP20 | Big Dia Pleated PP Cartridge 20" | 6 |
| MP3020 | Pleated PP Cartridge 20" | 20 |
| ZP205 | Pleated PP Cartridge 20" | 20 |
| ZP201 | Pleated PP Cartridge 20" | 20 |
| MUBLZP10 | Big Dia Long Pleated PP Cartridge 10" | 6 |
| MUBZP10 | Big Dia Pleated PP Cartridge 10" | 6 |
| MP30 | Pleated PP Cartridge 10" | 50 |
| ZP101 | Pleated PP Cartridge 10" | 50 |
| ZP105 | Pleated PP Cartridge 10" | 50 |