Product
In-Line Cartridges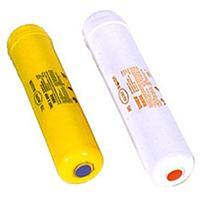 Product ID: M-LCL10-1, M-LCL10
Specifications:
Size: Dia.2.5
Length: 12
Working Manual:

Max. flow rate: 1.0 GPM, 3.79 LPM
Max. working temperature: 120°F, 50°C
Max. working pressure: 125 PSI
Inlet and Outlet: 1/4"
Features:
In-line filters contain media and housing in each unit.
Effectively remove chlorine, VOC and organic chemicals.
Application: residential, commercial, or industries.
Longer service cycle.
High removal rate.
See more complete detail
| | | | |
| --- | --- | --- | --- |
| Item No. | Media/Description | Packing | Service cycle |
| M-LCL10-1 | PP, 5 micron | 20 pcs/ctn | 3-6 months |
| M-LCL10 | Granular carbon | 20 pcs/ctn | 2,500 Gal or 10 months |